Iranian Dried Fig
Fig is a plant indigenous to western Asia, having been under cultivation in Iran for millennia.
Fig has a tasty, nutritious and energy booster fruit consumed fresh or dry.
Fig is high in iron, calcium, phosphorous, sodium, potassium, magnesium, manganese, chlorine, sulfurous, copper and vitamin A, B and C.
Iranian dried fig is another kind of dried fruit which is very high in sugar (roughly 60%).
It's worth mentioning that dried fig has 5 times as much sugar as the fresh one.
The Iranian fig is left to be dried on the tree without using any additive.
Estahban Tina Commerce nuts Trading Company is engaged in exporting dried fig, Moisten fig and Baby Figs.
Dried Figs purchased by our company, Then classified by exact devices and packed by our experienced staff.
All products of this company are exported to most parts of the world with highest quality and in obedience to international standards.
Dried Figs are packed in 10 kg cartons.
Fig is sorted to size as follows
Closed Mouth:
B: Between 14-18mm
A: Between 18-22.5mm
AA: Between 22.5-24mm
Slightly open mouth:
A: Between 18-22.5mm
AA: Between 22.5-24mm
Please find Iranian Dried Figs nutrition as below
Energy:  274Kcal
Carbohydrates:    69.10g
Dietary Fiber:   5.60g
Fat: 1.30g
Protein: 4.30g
Thiamine (Vit. B1): 0.10mg
Riboflavin (Vit. B2): 0.10mg
Vitamin B6: 0.20mg
Vitamin C: 0.60mg
Calcium: 126mg
Iron: 3mg
Magnesium: 50mg
Phosphorus: 77mg
Potassium: 640mg
Sodium: 34mg
Zinc: 0.55mg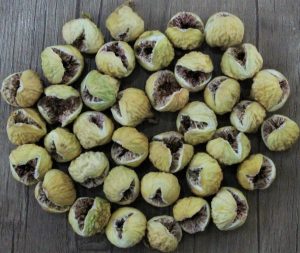 Grade 101AA
Estahban Tina nuts trading company
Grade 101AAA
This is the biggest size of open mouth figs.
Estahban Tina nuts trading company
'Grade
"
Estahban Tina nuts trading company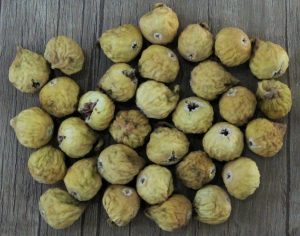 Grade AA+
Estahban Tina nuts trading company
Grade C
This is the cheapest type of figs with dark color.

Estahban Tina nuts trading company